This British Lion film received a lot of great reviews. Not just because Bowie made a freaky performance as Thomas Newton, the extra-terrestrial who came to earth in order to save his planet by bringing back water. Mostly shot in New Mexico, it was superbly directed and photographed with the talents of eccentric director Nicolas Roeg. Known for many other films, including Performance [starring Mick Jagger], his involvement with Bowie in this film produced an interesting spark on film.

*With the casting of Candy Clark, Rip Torn and Buck Henry, the film lets out a very interesting plot. Although most David Bowie fans could call this movie boring, there is definitely a strange but interesting side to the film of which one must respect.

*His acting abilities were vividly displayed in this film and encouraged others to engage Bowie in more acting roles, which is what he did, well into the 80s. [Absolute Beginners, The Elephant Man (broadway), Labyrinth, etc.]
I have had a lot of people tell me [some of them being old-time Bowie fans] that David Bowie has always made stupid movies...The Man Who Fell To Earth was their best example. The problem with this film is that it sends out too much confusion and eccentricity in the way that the story is told, causing the viewer to lose interest quickly. It is not surprising to hear that Labyrinth is everyone's favorite Bowie movie, however, The Man Who Fell to Earth still leaves a mysterious effect on its audience and allows one to be inspired by the eccentric abilities of Roeg and Bowie himself.

*The film was based on the novel by Walter Tevis. It took producers and Roeg himself a while before they could find the perfect alien. Bowie was chosen after an inspiration from watching 70s documentary "Cracked Actor".

Still in the phase of the Thin White Duke, Bowie was writing album Station to Station while shooting.

*Not a lot of Bowie's later roles would reflect on his in TMFTE. Today, Bowie's acting roles are often remembered from the 80s, however, his role in TMWFE is a superb role to remember, as it was his first major cinematic role.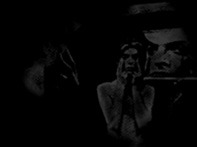 THE BACK OF THE VIDEO COVER SAYS...
The stranger [David Bowie], with a British passport, who walks into a small Kentucky town one morning, is stranger than you think. Hairless, oddly-eyed, without nipples, navel or genitalia, he is a shipwreck survivor from another planet. Of a more intelligent kind than earthlings, he quickly finds a job in research. His inventions are so powerful, that soon, he is betrayed by his jealous associates. He is kidnapped and handed over as a guinea-pig to a team of doctors determined to discover what exactly makes him tick and think.

Superbly photographed bubbling over with ideas, with some of the most unusually explicit sexual sequences ever to pass censorship, The Man Who Fell To Earth ranks as one of the most remarkable British productions of the 70s.

ISN'T IT A SHAME?
Jareth - King of the Goblins has received a hundred times more attention than Thomas Jerome Newton has. Why? I don't know...